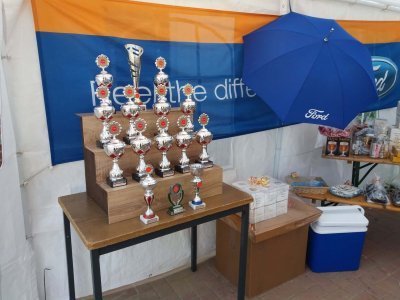 Rules Show & Shine
There are 12 cups to win in 12 categories.
Every competitor can win 2 cups at the most, next to 'the Over All winner' en 'most kilometres to the meeting '.
You can vote on the FRP's in all categories, accept in "Best Standard Puma".
Best Standard Puma (1 trophy)
Only the exterior of the car counts, this has to be 100% standard (stickers are not allowed),
Invisible adjustments like Xenon or an open-air-filter are allowed. Also, a different radio is allowed
Best Light Tuned Puma (1 trophy)
Maximum adjustments: different rims, lowering springs, different exhaust, small / few stickers
no adjustments to the "line" of the car (like spoilers or sideskirts)
Best Tuned Puma (1 trophy)
Maximum adjustments: Like Light Tuned, only with spoilers ADDED to the original bumpers
Best Tuned+ (1 trophy)
Maximum adjustments: Like Tuned plus wing doors, color, airride or bodykit
Best Ford Racing Puma (1 trophy)
Only REAL FRP's can compete in this contest
Best Interior (1 trophy)
For example: sports-chairs, custom dashboard

Best In Car Entertainment (1 trophy)
In Car Entertainment, Screens, etc

Best Under The Hood (1 trophy)
Adjustments underneath the hood
Most Beautiful Rims (1 trophy)
Best Woman's Car (1 trophy)
When the car is OFFICIALLY in the posession of a woman, you can compete
The woman has to be present at te meeting
Most kilometers (1 trophy)
This cup will be awarded to the person who travels the most kilometers to the EFPM.
When this person leaves before the end of the meeting, this will be awarded when the person leaves
Overall Winner (1 trophy)

The categories are clearly defined.
We do our very best to registrate every Puma in the appropriate category.
This is done in consultation with the Puma owner.
The Puma owner has the ability to view the categories after the registration.
ONLY then there is the possibility to join the tender. Protests afterwards will not be considered.